How to Start a Vending Machine Business
In order to generate a list of relevant names for your business or any other reason, add a word in the form below and hit the "generate" button.
Vending machine businesses are effective small businesses. Vending machines are frequently in use by the public, they offer in-demand products, and there is a lot of growth potential when you start small. In this article, we will detail how to start a vending machine business with some top tips and options to build a successful brand.
Why Start a Vending Machine Business?
There are numerous reasons why you should consider starting a vending machine business. Here are some of the top reasons.
1. Diversification of Revenue Generation
One of the advantages of vending machines is that you can diversify your portfolio and have multiple revenue generation lines. For example, vending machines to sell drinks, snacks, books, magazines, and more. By using diversification, you're more protected from fluctuation in the market.
In addition to offering several different products, you can also spread the locations of your vending machines. Some machines might have busy seasons, like those near tourist attractions being more valuable during holiday seasons.
2. Limited Personnel Required
Vending machines operate when no one is around. Therefore, the only personnel required are those to refill and repair the vending machines. This can be the same person and one person can operate dozens of vending machines as you might not need to refill the machine every week.
During your early business days, you could probably do most of the work yourself. It might be cheaper to outsource some of the operations of your business, like marketing, accounting, and others for cost-effectiveness and to enable you to build a better, more profitable business.
3. Change Business Operations Quickly
If one product is no longer in demand, or new regulations are preventing some products from being sold via a vending machine. But that doesn't mean your business can end, it just means you need to find a new product to fill those vending machines.
Being able to shift products is one of the best aspects of the brand. And it can work with locations too. One location might close down, but you have the equipment to place the vending machine in a different location without having to spend more money.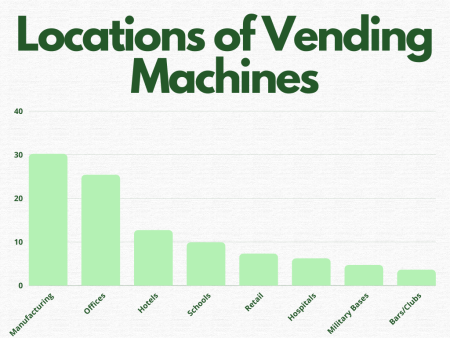 How to Start a Vending Machine Business
Here are the steps on how to start a vending machine business. Use this as a guide to help you build your own business and move it to success.
Step 1 – Build Some Finance
To begin with, you need to have some finance to start your business. Costs can vary on new or used vending machines but generally, you need to have somewhere between $20,000 and $50,000 in startup costs. This amount should buy you between five to ten vending machines, a good starting point.
You will also need some finances to buy the initial inventory. The estimated amount for this will depend on your ideal product.
Once you have the finance, buy your vending machines.
Step 2 – Build your Business Ideas
Now you need to build the business ideas. You need to know a few things, such as:
What are you going to sell?
What are you going to charge customers?
What profit margins are you going to get?
What commissions can you offer your locations?
How are you going to restock/maintain locations?
Step 2 – Brand your Vending Machine Business
Now you need to create a brand for your vending machine business. You can start by using the vending machine business name generator. This simple tool is free to use and allows you to create a name for your brand within seconds.
You should also create a logo and other important branding options. Social media, websites, and official correspondence should be created. Be sure to also have standard contracts written, so you can get venues to sign these when they agree to have one of your vending machines at the location.
You can try the tool here.
Step 3 – Build your Website
Now you should build a website. Nearly one in four businesses don't have a website, yet this is a great way to build a business brand, collect leads and add details to your website.
Step 4 – Build Leads
Now you need to look for locations where you can place your vending machines. Many small businesses tend to look at the biggest locations like leisure centers, tourist attractions, transport hubs, and so forth. However, too many big brands go for these locations and can make it harder for you to get placements for these locations.
Instead, aim to look at smaller locations with similar foot traffic. Locations like courthouses, schools, businesses, apartment buildings, and similar options can be great business opportunities.
Step 5 – Contact these Leads
The next thing that you need to do is to contact the locations and negotiate a deal with the locations. The way that vending machine businesses work is that you take the revenues from the machines and pay the location a commission, based on the percentage of the sales that are made from each machine. The percentage can be large if there aren't expected to be many sales.
You can always re-negotiate the deal at a later time, so you might need to consider adding in a period when you're going to renegotiate the deal.
Step 6 – Start your Service
Now you can start to deliver your service. Delivering and stocking the vending machines and beginning to make sales. Be sure to create a regular maintenance schedule that can include fixing broken machines, restocking, and cleaning.
Step 7 – Social Media
You should also undertake lots of social media marketing. You should include new locations, news of current locations, and also news about what is happening in the locations where your vending machines are based. The more traffic you can advertise and direct to locations where your machines are located, then the more traffic there will be there to buy from your vending machines.
Social media can be very successful, but you might need to buy some Facebook advertising to make it successful.
Step 8 – Continue to Grow
To ensure your business is a success you should look for ways to grow. You can start by adding more vending machines to your inventory. These can stock the same products in your current inventory, or it can be a new line.
If you choose to stock different products, then you can also have these at the same locations, meaning you can cut costs on maintenance.
Final Word: How to Start a Vending Machine Business
Learn how to start a vending machine business in the guide above. With the quick guide, you will be able to start your own business and gain financial independence. There are few steps and many of them require little action by you.