Wix Business Name Generator
In order to generate a list of relevant names for your business or any other reason, add a word in the Wix Business Name Generator below and hit the "generate" button.
A Wix business can be a great way to grow a profitable business. First of all, you need to decide what type of business you would like to have. Perhaps you are thinking about eCommerce, or you have some skills in content writing for example. There are a lot of competitors out there, some niches are more competitive than others so you will need to think about what you can bring to your brand. One aspect to help with success is to have an excellent name for your Wix business. In this article, we share tips and go through steps using the Wix Business Name Generator to help you come up with the ideal name for your Wix business whatever niche you decide to focus on.
Why use a Wix Business Name Generator?
There are many reasons why you should use the Wix Business Name Generator to help you come up with a name for your new Wix business venture. As we mentioned above, many niches are very competitive. Take for example apparel stores or insurance companies. With so many brands already established you might find that a lot of the names you think of are already taken.
You need to come up with a unique name. For a start, you're setting up an entirely new business and you want it to stand out from the crowd. The last thing you want is for your brand to look like a copy version of another. Don't be tempted to do this to attract the other brands' customers. Chances are you will lose your customers to the competitor. You might also face legal action if they feel that the name you've chosen is too similar to theirs and it infringes upon their copyright.
Many larger established brands have in-house legal teams. If you end up facing legal action it can be very costly and could cost you your business. It could also ruin your reputation.
Even if you don't go to court you will still be associated with the other brand and they could get a poor reputation which you could get associated with. As you can see it is much better to choose a unique name. By using the Wix Business Name Generator and going through the tips and steps in this article you will have a much better chance of choosing a unique name for your brand.
You could seek advice from a branding agency but this could be a costly option. As a start-up business you need to be very careful with how you spend your initial funds before you establish a regular income so if you can choose a name yourself it is worth doing so to retain as much of your funds as possible.
Tips for Choosing the Best Name with the Wix Business Name Generator
There are so many options for building a brand and you'll want to come up with some great business name ideas. Here are some potential names to generate using the Wix Business Name Generator.
melodic Business Blog
electronic Business Blog
minor Business Blog
broad Business Blog
poor Business Blog
japanese Business Blog
possible Business Blog
given Business Blog
female Business Blog
homely Business Blog
historic Business Blog
courageous Business Blog
curious Insurance Services
loud Insurance Services
occupational Insurance Services
profound Insurance Services
mixed Insurance Services
main Insurance Services
double Insurance Services
swift Insurance Services
latin Insurance Services
chilly Insurance Services
adorable Insurance Services
superior Insurance Services
There is a range of ideas above from those that are for professional services to those that are designed for a more feminine audience. To get some of these great Wix company name ideas, follow the tips and steps below.
Tip 1 – Your Wix Company Name Ideas Need to be Unique
Any Wix company name ideas you are considering should be unique to you and your brand. You don't want to have any legal complications or to be taken to court because your name is deemed to be similar to other brands. Even if you don't face legal action your potential customers could go to the other brand instead of you so you miss out on revenue. You will struggle to overtake them in ranking if they've been established for longer, especially if they have a good SEO (search engine optimization) campaign.
Tip 2 – Your Wix Business Name Ideas Should Incorporate the Future
Consider the future you see for your Wix business. Don't limit yourself by calling your online apparel store Shimmering Gowns when you might decide to move away from formal wear fashion in the future. If you are very sure that an expansion is not for you then a specific name can help with SEO and attracting the right customers but try not to limit yourself if you can help it.
Another factor to consider is including a place name could be a mistake if you end up relocating or expanding to different areas. A location option that can work well is including a feature such as Orange Tree Legal if you are going to offer legal services and you have an orange tree in your front garden, for example.
Tip 3 – Try Using Concatenations Within your Insurance Business Name
You could consider using a concatenation which is when a name is made up of the first initial from three words, This can make for a memorable name yet you will need to check that the initials are not being used by a brand in a different niche to yours. Some examples of this include KFC, MAC, and BMW.
Tip 4 – Ensure Social Media Accounts are Available for Your Potential Wix Company Name
Social media is only accountable for a small number of sales online, with an average of 1% to 2% this seems a low amount but social media is extremely important for building social proof and awareness of your brand. It can help you generate leads. As social media is so important you will want to make sure that you have access to the accounts for your Wix business name.
Check marketplaces such as Etsy and eBay and also consider having a presence on video streaming platforms.
Don't consider using a similar name to a brand that appears inactive on a social media platform. Many businesses fail to keep up with social media posting and then return to it at a later date.
Tip 5 – Ensure the Wix Business Name Domain is Available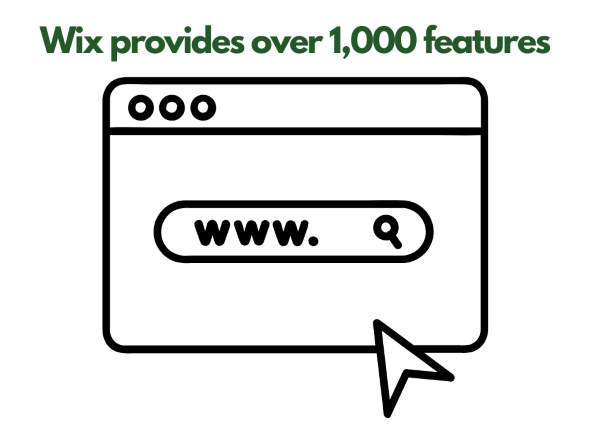 It is essential to have the right domain name for your Wix business name. Your domain is like the address of your website. It doesn't take long to use a domain checker and you can do this when using the Wix Business Name Generator. If you see a name you like and you've done all your checks in this article, you can buy the domain name straight away to secure it.
How to Use the Wix Business Name Generator
The steps below will help you use the Wix Business Name Generator to create a successful business name. They will help you generate lots of potential Wix business names without having to pay for a branding agency and will hopefully prevent you from making any costly mistakes.
Step 1 – Create a List of Important Words
The first step for you to do is to sit down and brainstorm a list of the most important words that describe you, your services, ethics, and other elements that you might want to communicate within the business name. The list is going to be rather personal, and this is important for your own personal branding. You need something that uniquely identifies you and cannot be mistaken for another brand. This list can be as long as you want it to be.
Step 2 – Reduce the List to the Best Options
Once you've created the list, you can then reduce it down to the most important words. Those words are the ones that are going to be relevant to you but also at the same time have significant meaning. You might need to reach out to your friends and family to help you. Or you might want to look at how the words perform on SEO to choose between the last few.
At the end of the process, you need to have about ten words that you would like to carry forward.
Step 3 – Add your Names to the Insurance Wix Name Generator
Now you can take the list of the ten words that you shortlisted in the previous step and add them to the Wix business name generator. This free tool can help you generate as many Wix business names as you would like, and the Wix business name ideas are there for you to check whether they can be used or not. There is no charge for the use of the names.
Some of the names you could generate are like these.
sick Pet Services
accused Pet Services
very Pet Services
unnecessary Pet Services
suitable Pet Services
brainy Pet Services
ideal Pet Services
rising Pet Services
developing Pet Services
african Pet Services
enthusiastic Pet Services
selective Pet Services
proud Business Directory
direct Business Directory
surviving Business Directory
cheap Business Directory
flat Business Directory
raspy Business Directory
squealing Business Directory
internal Business Directory
voluntary Business Directory
compulsory Business Directory
repulsive Business Directory
cheerful Business Directory
Wix Business Name Generator
Now you can try to use the free Wix business name generator tool. If you want more Wix business name ideas, then all you need to do is click on the 'Generate' button again.
Step 4 – Reduce Your Wix Business Name Ideas Down
By this point, you should have dozens or hundreds of potential Wix business names that you can go through. However, checking each of these is going to take you too long. Therefore, what you need to do is reduce down the list so you've got about 10 to 20 names that you like the most.
There are going to be some potential name ideas that you can remove immediately. However, there are probably going to be some names that can be tough to choose between. If this is the case, then you might want to check with friends and family again. Or you can check the search potential for the keywords inside the name. What you're looking for is a keyword that has a high search volume and low competition. If two are joint, go for the word with the smallest competition.
Step 5 – Check for Use by Other Businesses
Now you need to check the business names to ensure that they've not been used by any other business. This can be a quick or long process. A quick Google search can be the first step in this process. Most high-profile or active businesses will have a presence on Google, but it is not a foolproof plan as we will go into.
Do not consider using names that have similar, but not the same name. While your names don't match, that doesn't mean that the other brand can't tie you up in legal battles. Legal battles will drain your new venture of the financial resources it needs to be successful.
And another factor to check is whether there are brands that have the same brand name but are spelled differently. Consider how UK and US English can change and that some brands might have the same brand name but spelled differently. Or they could purposely misspell a word to make it more trendy with younger generations.
Step 6 - Do a Business Name Search
Next, check with your state's business name directory for registered entities with the business name. Some businesses are registered but perform badly on Google and other search engines. Or the business might have a registered name but trade under another. Doing a business name search allows you to ensure you're not accidentally using a protected name.
If you plan to trade in more than one state, you might need to perform this check in every state.
Step 7 – Check Social Media
Now you need to check social media to ensure that there aren't others who are using the brand name you've selected either. Some brands might be on Etsy, eBay, or some other platform but do not have a website or registered business name.
Be very thorough in your search. While some businesses might also seem to be inactive, you should discard those names as well. You don't want the reputation of an old business transferred to your new brand, it will just harm your engagement with audiences, even if they had a positive reputation.
And don't just think about Facebook. Check every social media platform that you can think of.
Step 8 – Check Domain Name Status
Some people haven't started a business yet, or are preparing to launch soon. Therefore, their website might not be ranked and they might not have gotten around to registering their social media accounts yet. However, they might have registered a domain name.
So you can complete a free domain name check. These are quick to do and can prevent you from choosing a business that is about to be registered.
Step 9 – Choose your Wix Business Name!
Now it is the fun task of choosing your Wix business name. Take your time on this. You might have lots of options for you, with not many removed. Or you might only have two or three potential names left. If you're confused and can't choose between two, then you can always ask your support network for their opinion.
Step 10 – Register Your Wix Business Name Everywhere
Once you've confirmed the Wix business name you would like to use, register the name on every platform you can. This can include buying your domain, registering social media accounts, and consider registering your business as an LLC. This will offer you protection and give protection to your business name.
Final Word: Wix Business Name Generator
Above are the steps that you need to use the Wix business name generator to get your new venture an identity. The process can take just a couple of hours before it is complete. Then you can start to build your Wix website. Good luck with your new website.