How to Start a Painting Business
In order to generate a list of relevant names for your business or any other reason, add a word in the form below and hit the "generate" button.
People spend a lot of money on their homes. The market for painting and decorating in the US is estimated to be about $40 billion a year. Compared to other industries, painting did suffer significantly during the Covid-19 pandemic, with many business owners having to stop work. Therefore, growth was limited to just 0.2%. However, since the end of the pandemic, it is expected that there is going to be substantial growth. Therefore, we will discuss in this article, how to start a painting business.
Why Start a Painting Business?
There are numerous reasons why you might want to start a painting business in the US. Here are some of the common reasons why you might want to start a painting business in the country.
Be your own boss - decide on what work you complete, who you work with, the rates you earn, when you take holidays, and what hours you work.
Work-life balance - many of those who start their own business tend to enjoy a better work-life balance as they don't have to work overtime or report to someone else. Therefore, they usually have better mental health.
Expandable - Unlike with work, if you want to earn more money you can expand your business, eventually employing teams. Or you can take on a more diverse set of decorating jobs.
Painting Industry Statistics
Here are some of the more interesting painting business statistics that you might be interested in. These can help guide you with your business creation.
The average decorating company owner can earn between $80,000 and $120,000 a year.
There are currently only 318,271 painting contractors employed in the US.
The average age of painting contractors is 45 years.
86.3% of painting contractors are men, 13.7% are women.
In 2021, women earned 87% of what men earned in the industry.
Painting contractors are more likely to work in private companies than public companies.
Very few painting businesses survive long-term.
Why Do So Many Painting Businesses Fail?
It is estimated that the long-term success of painting businesses is relatively low, with less than 10% surviving and about 98% of painting businesses generating less than the average income in the US.
So why are so many painting businesses failing? The answer is relatively simple, business owners in this industry concentrate on the technical aspects of the business, like painting and decorating.
They don't tend to think about the technical aspects of running a business. For instance, they won't work in sales, marketing, or other aspects. They expect people just to come to them. If there wasn't competition in the sector, this wouldn't be a problem, however, in the current economic climate, it means that businesses aren't earning enough if they aren't out there.
Therefore, you want to be spending at least one hour a day ensuring that you're meeting your business' backend needs (admin, sales, customer service, etc.).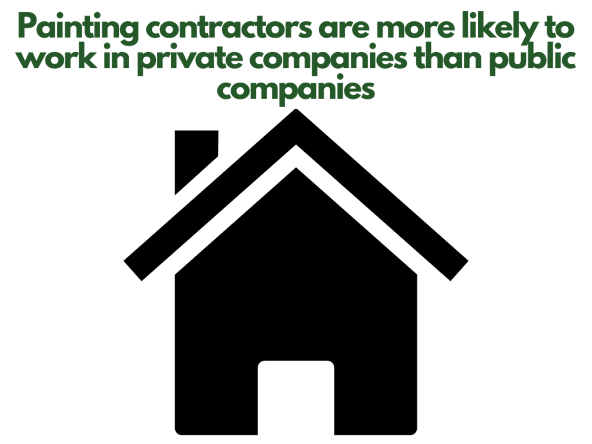 How to Start a Painting Business
Although there are a few signs that don't look positive on the painting business setup, it doesn't have to be that way. Here are the steps that you need to follow to get your business going.
Step 1 - Plan
The first step is always going to be vital for success: planning. You need to ensure that you are planning your business's future success with a business plan. A business plan details everything about your startup costs, marketing, target audience, pricing, and other details that mean that someone could pick up your document and know how to run your business.
It is important to consider lots of elements within the plan. But be sure that you aren't too inflexible on the plan. There are sometimes changes that need to be made to accommodate changes in the market.
Step 2 - Create a Brand
Now using your business plan as a start, you will need to create a brand for your business. Using a company name generator can help you create a business name and brand identity much quicker, but it isn't always the best option for you.
A business name should be unique, memorable, and easy to use. Be sure that you have a business name that has the relevant social media names and domain name availability. Names should also be available in your state. To help you, you can do a domain name search and a business name search.
To protect your name from being used by another business, you should consider registering your business as an LLC. It will also mean that personal property is protected from business debt. LLC businesses can also benefit from better credit terms, business bank accounts, and other aspects.
Step 3 - Get Initial Equipment
Now you need to plan your costs and get the initial equipment. One aspect that might be expensive is getting a work vehicle. To save money on the vehicle, you could get a used van. Or you could get the van on credit, but this can be a risky option.
You might be able to save money in other areas too. Use equipment that you have at home for your equipment or lease equipment when you start.
Your initial equipment can be relatively cheap though. Remember that you can charge customers for the use of paint, as part of the equipment, so don't include that.
Also remember that there are going to be some costs for registering your business as an LLC, permits, business licenses, tax returns, and more. You need to consider what to put aside each month. Don't forget your insurance. You need to have public liability and professional indemnity insurance.
Step 4 – Marketing
Now you need to start marketing your new business. Start building a website to help you attract audiences who are searching online. You might also get people to enquire and pay online. And it is a great way to showcase a work portfolio. There are numerous website platforms that you can use with Wix and Squarespace being great options for painters.
You should also consider using social media and email marketing to help promote your work. Regular updates on your social media profiles, using videos and images can help you to build a successful business for your brand.
Final Word: How to Start a Painting Business
Above are the steps that are required to know when you want to learn how to start a painting business. The guide can help you get the new business venture off the ground and be successful. Good luck with your new venture.