Shoe Store Name Generator
In order to generate a list of relevant names for your business or any other reason, add a word in the Shoe Store Name Generator below and hit the "generate" button.
One of the most exciting aspects of starting your shoe store is coming up with the ideal name for your new brand. Yet it can be one of the hardest parts of your startup. You will want an attractive name that encourages customers to try out your new store. You might have a brick-and-mortar store and an online store or only be online. Either way, you don't want to choose a name similar to other brands or completely forgettable either.
This is why a shoe store name generator can be really helpful. With a great name, you can rank easily on Google. In this article, we go through the steps required to help you come up with the ideal name for your shoe store startup. We show you how to use the shoe store name generator and then all the steps you need to think about to make sure you come up with an original name that is catchy, has low competition, and will attract customers.
The Shoe Store Name Generator is a completely free tool that you can use as many times as you like. Once you've found the ideal name, we'll also go through the steps you need to take to register your name and secure your brand.
Why Use a Shoe Store Name Generator?
We briefly mentioned some of the reasons for using a name generator above. For a start, it can be challenging to think of a name, the options you choose can often inadvertently sound similar to other brands. Which means you can lose potential customers to the other brand when they accidentally visit them instead. It could also lead to legal complications.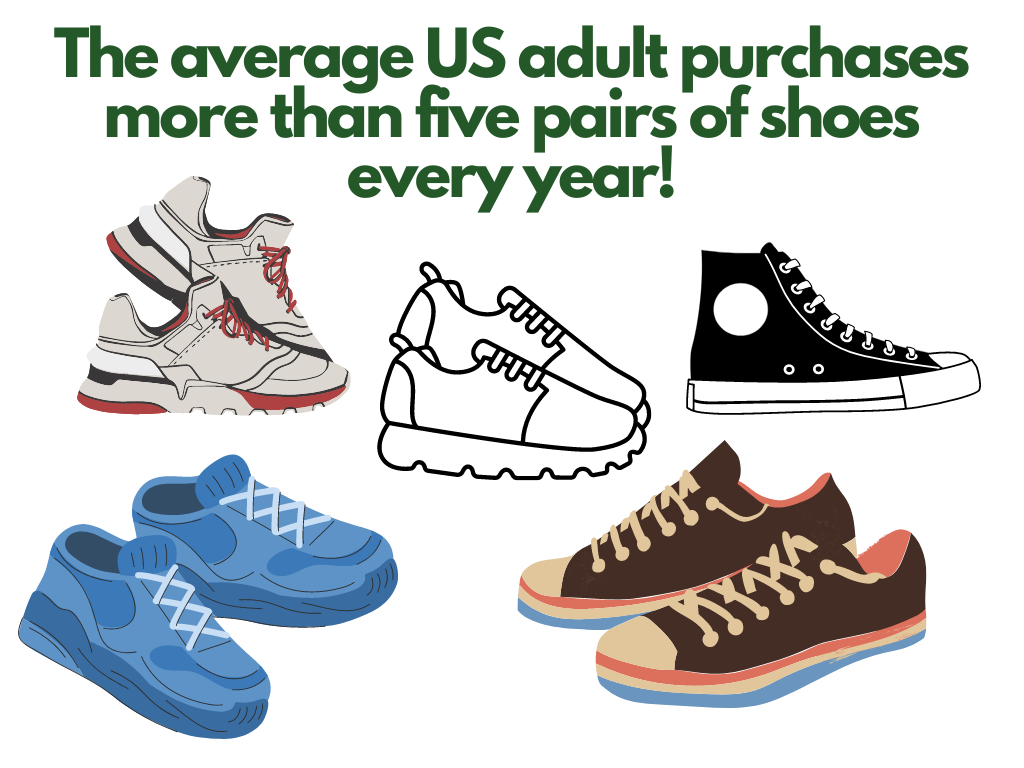 Using a name similar to another brand's, whether they're still trading or not, can also make it very difficult to rank on social media because your name is already so swamped. This will make it very difficult for customers to find you online. A Shoe Store Name Generator can help you produce an original name and avoid some of these potential pitfalls.
You also want to choose a name you are proud of when introducing your new store to friends and family. They're likely going to be your first customers and your proudest supporters. Your name needs to be memorable so people visit your store in different locations, such as your website, your store, your Facebook page, etc. 80% of sales occur after five to twelve interactions so it pays to make sure potential customers can remember your name!
Choosing Between Shoe Store Names
When coming up with options for a new shoe store name you want to choose a name that reflects your brand, and your niche and is enticing. Your name is the first aspect that the audience will see and so you must make a great choice from the beginning. It's very hard to change a business name once your brand is established.
Another important factor to consider is that your name seems professional enough for your suppliers. You will need to choose a name that sounds professional and reflects the kind of shoe store that manufacturers wish their products to be sold in. Make sure you research this carefully.
Tips For Coming up with Great Shoe Store Name Ideas
Here are our tips for coming up with several great name options for your new brand. These tips will help you come up with several ideas that you can then look to narrow down further in the process.
Tip One – Choose a Unique Name
It can be tempting to choose a name similar to other brands in the hope they'll come across your brand and shop with you as well. You might be lucky and get some traffic from the other brand and you might get away without legal implications but there are some significant issues with this strategy.
You could face legal fees and court fees should the company seek compensation in the future and this can be very costly, especially if you've only just started. You also wouldn't want the negative publicity that would become associated with your brand.
The other aspect to consider is that you may lose customers to the originally named brand. For example, consider that a potential customer has walked into your store but isn't sure about purchasing with you immediately. Then they return home and decide to make a purchase online but come across the more established, similarly named rival brand and they might lose them to this competitor.
Tip Two – Expansion Plans
An important aspect of naming your brand is to consider how you might want your business to expand in the future. It might just be a shoe store at the moment but you might want to expand into the store next door and sell children's clothes as well. When naming your new shoe store consider any potential expansion plans.
A difficulty you may have is deciding whether you want to specify that you sell shoes in your brand name which might help to identify what you offer customers when starting.
You might also be planning a line of handbags in the future so instead of just naming yourself Meg's Shoes you might want to consider Meg's Shoes & Accessories. This is quite a long name to type into a URL though, and so at this point, you might want to consider a unique name to cover all future offerings.
Another consideration is if you decide to put your location in your name like Southport Shoes which can be great for SEO initially but, if you decide to expand and set up in other locations, your name will be restrictive.
Tip Three – Try Using Concatenations
When you're faced with a few words that you'd like to incorporate into your name, one option might be to use a concatenation for your brand name. Like if we had Meg's Shoes & handbags, this would become MSH.
It does take time for concatenations to become mainstream and as recognizable as say KFC and BMW but if you're prepared to play the long game your name has the potential to become an iconic name. Using three letters for the concatenation is a magic combination.
Tip Four – Ensure Social Media Platforms Have Available Accounts
For any potential name, you need to make sure it can be registered on all the social media platforms you might want to use. Even if you don't plan on using one of the platforms immediately. Although social media is only involved in about 1% of sales it is a really important way of introducing people to your brand and building brand loyalty.
Inactive accounts can be reactivated so steer clear of names that are similar to any current or preexisting brand. If potential customers come across the inactive account while searching for you, then they might just assume that you're the inactive account and not continue searching for you as well.
Check out similarly named stores on platforms like Etsy, eBay, and Amazon as well. You may very well wish to sell some of your products through them as well.
Tip Five – Ensure the Domain is Available
The most important aspect for your new startup these days is your website. Even if you have a brick-and-mortar store your website is essential. Whichever names you're considering you must make sure that they are available as a domain name in the exact presentation and spelling as your store name. Amazingly 40% of small businesses don't have a website but it is a good idea to have one.
A domain check takes a very short time to do and is an essential task before you get started on other marketing such as leaflets and fliers.
Another great tip is to make sure you buy all the associated domain extensions such as .com, .net, .org, etc.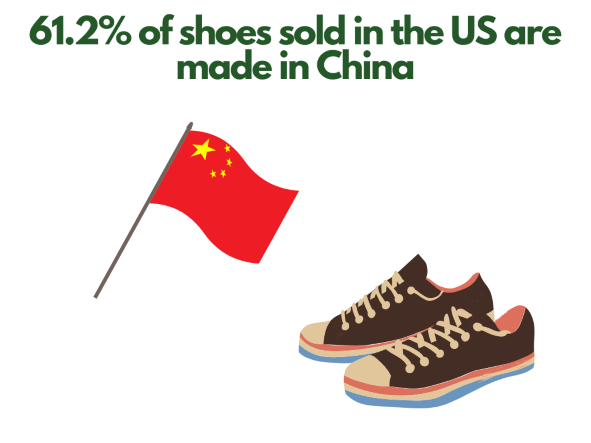 How to Create a Great Shoe Store Name Ideas with the Shoe Store Name Generator
By using these steps you can use the Shoe Store Name Generator to come up with several great ideas for your shoe store.
Step 1 – Create a List of Meaningful Words
Put together a list of all the words that you associate with your brand or niche. It could include personal links to your brand like your name, niches such as teen shoes, and ethics such as eco shoes. This should be a long list so put down any words that come to mind when describing your new shoe store.
Step 2 – Reduce the List to the Best Options
Now take a look at the list and start crossing off any words you don't want as part of your name. Reduce this list down to about ten keywords that best describe your brand. Talk to friends and family and see what they think of your options.
You could even do a survey locally. Put together some pictures of the types of shoes you would like to be selling and then ask locals to take a look at the list of words and point out which words match the shoes. This can give you a great idea about local opinion on the styles you wish to sell and potential name ideas.
Step 3 – Add your Names to the Shoe Store Name Generator
Now you have narrowed your list down you can add these words to the Shoe Store Name Generator. This will help you produce lots of name ideas very quickly and you can click on the Shoe Store Name Generator as many times as you like.
Here are some examples for you.

subjective footwear
bottom footwear
charming footwear
olympic footwear
safe footwear
relevant footwear
protective footwear
funny footwear
respectable footwear
necessary footwear
continued footwear
modern footwear


white Shoes
explicit Shoes
difficult Shoes
steady Shoes
rude Shoes
red Shoes
quaint Shoes
technical Shoes
historic Shoes
serious Shoes
appalling Shoes
low Shoes

Shoe Store Name Generator
You can try the Shoe Store Name Generator below. It takes just a moment to try it out and you can check each domain with just a click.
Step 4 – Reduce Your List Further
Now you've got a long list of potential names, so go through this and decide which ones don't appeal. Then reduce it down to 10 to 20 names that could be great options for your shoe store. Think about how the names sound, say them out loud, and see how they sound when discussed in conversations. Also, reach out to friends and family to see what they think as well.
Step 5 – Check for Use by Other Brands
Check these potential names online, on social media on video platforms, and on merchant sites to see if any other brands are using the names you are considering. Look out for brands with similar names as well, you don't want your customers getting confused and going to a competitor instead. So if someone is already Meg's Shoes don't consider setting up as Meaghan's Fantastic Shoes. It's just too similar and could cause so many potential problems.
If the other brand is established on social media and ranked by Google you will have very little chance of out-competing them for ratings.
Step 6 – Check Social Media
Not all stores have a website, some brands are only on social media. Especially if they have a brick-and-mortar store. It's best practice to have a website but when you're checking for names don't assume that because a name isn't on a website that it won't be on social media. Check each name very carefully for established brands across all social media sites you may wish to use. Remember to not use names if they are inactive accounts as well.
Step 7 – Check Domain Name Status
Finally, check the names for domain status. They should be available as the complete name to compromise with a variation on your name. So if you call your brand Meg's Shoes but buy the domain meaghansshoes.com you are going to confuse potential customers so this is not a good idea.
Remember to check all extensions are available so you can secure them, like .net, .org, .com, etc.
Step 8 – Choose your Name!
This is the most exciting part, you can choose your final name, you might want to consult friends and family. You could also put your name idea out to social media to see what a wider audience thinks.
Step 9 – Register Your Shoe Store Name Everywhere
Now you can register the domain, social media accounts, and more for your company. It takes just minutes to complete this work.
Final Word: Shoe Store Name Generator
The above steps and tips will help you generate a fantastic shoe store name for your startup. Hopefully, this methodical process will have made it easy for you to come up with a name and you can now get on with all the other important jobs involved in getting a new startup off the ground!