Delaware Business Name Search
In order to generate a list of relevant names for your business or any other reason, add a word in the form below and hit the "generate" button.
If you're thinking of starting a business in Delaware. You've got an idea of what you would like to do, and you think that you've got the skills, network, and finance to make it a success. However, what you really need to do now is create a name, and part of creating that brand is that you have to do a Delaware business name search. In this article, we will look to help you complete the process and why you need to do it.
Why set up a Business in Delaware?
There are several advantages to setting up an LLC in Delaware. For one, the state offers several tax benefits. For one, Delaware doesn't impose income tax on corporations registered in the state, that doesn't do business in the state. In addition, shareholders who aren't residing in the state don't need to pay tax on shares. The state is sometimes known as a tax haven.
There are also better legislation systems for corporations within the state. There is a dedicated corporation court, with dedicated judges, and experts in corporate law. The decisions from the court tend to be more predictable than in other states.
In addition, filings are designed to be easier and the privacy of shareholders is protected. However, the problem is that the filings in the state are more expensive and there is the need to pay franchise tax.
Why Create an LLC in Delaware
There are also numerous benefits to starting an LLC, regardless of the state. For one, LLCs have numerous tax benefits as well as the protection of registering a name means that another brand cannot use the name. Therefore, you can build a better brand that can't be confused with other organizations.
In addition, an LLC can get access to more services. For example, banks are more likely to allow you to open a bank account. In addition, being an LLC allows you to get access to funding much easier and on better terms with suppliers.
Brands with an LLC name can also get better responses from customers. If you're a B2B business, your potential clients are more likely to work with you. This can be a great benefit. And you will also find that your business can charge better rates because the reputation will be much higher.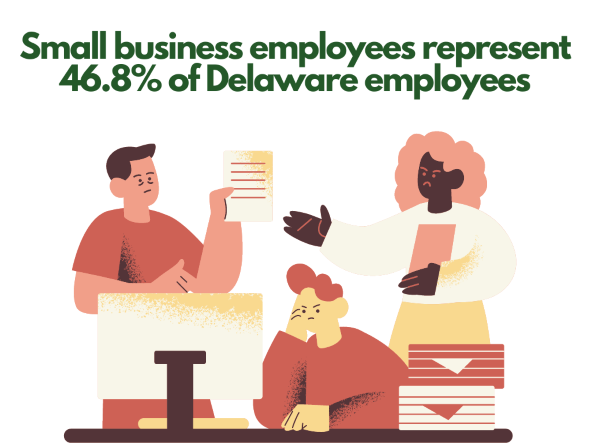 How to Prepare for a Delaware Business Name Search
Before you start a Delaware business name search, you need to prepare for the business name search. This starts with a business name that you would like to use. The problem is, you can't use the same name as someone else, and there are lots of times when a business name search will come up with an existing entity.
Therefore, it is always best that you attempt to come up with several different name options for your brand. Ideally, you want to have at least three to five name ideas that you potentially would like to use. That way, when you find a name that is in existence, you don't have to start from scratch.
If you're struggling to come up with a business name for your brand, then you might want to try using a business name generator. A business name generator is a free tool that can produce hundreds of potential names for your brand, regardless of the niche that you're in.
And don't forget that you can use Google or a social media search (including YouTube and TikTok) to search for those using your potential business name. You can also use social media.
Details of the Secretary of State
To do a Delaware business name search, you need to have the information to contact the secretary of state. Here are those contact details.
| | |
| --- | --- |
| Website | https://corp.delaware.gov |
| Phone number | (302) 739-3073 |
| Email address | [email protected] |
| Opening hours | Mon – Fri, 8.30 am – 4 pm |
If you have any questions, you can speak to the team there. They will provide you with the right direction to go.
How to Check for Business Name Availability
Searching for a business name in Delaware can be done in several ways. However, there is only one way that you can be sure and that is to go to the Delaware trade name lookup engine and complete a search. So many businesses might trade under a different name that is registered, although their DBA is also a registered name.
All you need to do is to access the website and then you can search. You will get lots of details like the business' status (active/inactive) and other information. Though there are privacy laws in the state, so you won't get information like who owns shares.
You should also check on a domain checker to ensure that the domain name that you would like to use is also available. There can be people who have bought the domain, but not registered the business.
How to Register a Delaware Business Name
Once you've confirmed the name you would like, you need to register the name. If you don't know how to register a Delaware business name, then you can learn the process below. You can register the name in person, online, or by mail.
Different business structures may require different registration procedures. If you need help with LLC you can use a registered agent such as ZenBusiness or IncFile. When you incorporate a business in the state, you need to ensure that you will file a Certificate of Formation.
How to Reserve a Business Name in Delaware
If you've chosen a name and it is available, you can reserve the business name. The reservation of the business name in Delaware lasts for 120 days. This allows you enough time to register your business. You will need to pay a fee of $75 to complete the process.
When you register a Delaware business name you will also need to pay another filing fee that is $90.
Final Word: Delaware Business Name Search
The Delaware business name search is a simple process that allows you to check your potential name against those LLCs and other businesses that have been registered in the state. There are so many advantages to registering your business within the state. One advantage is that Delaware is known as a tax haven.
Conduct a Business Name Search in Other States